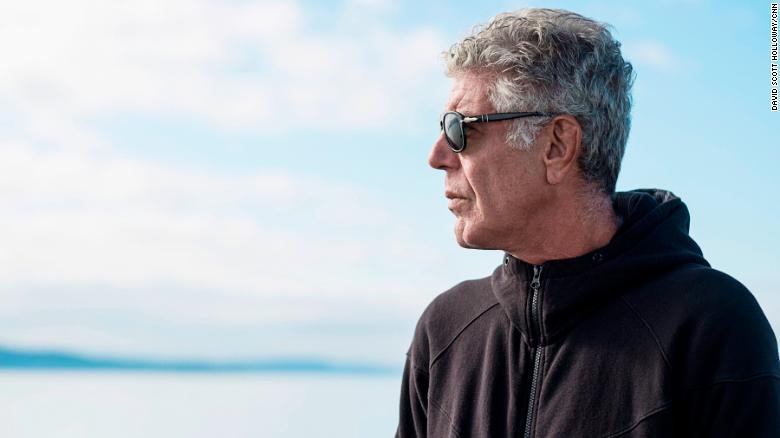 Денеска светот е во шок поради смртта со самоубиство на славниот писател и тв кувар и коментатор, Ентони Бордејн.
Оваа вест е само неколку дена по самоубиството на славната дизајнерка Кејт Спејд која се обеси во својот апартман во Њујорк.
Овие месеци кога почнува летото се најстрашни за луѓето кои страдаат од депресија, периодот се нарекува сезонска криза.
Повеќе за неговата кариера и околностите за смртта, овде.
Еве што пишува на ВИКИПЕДИЈА:
Bourdain had a public persona that has been characterized by Gothamist as "culinary bad boy".[52] Because of his liberal use of profanity and sexual references in his television show No Reservations, the network placed viewer discretion advisories on each segment of each episode.
Known for consuming exotic local specialty dishes, he had "eaten sheep testicles in Morocco, ant eggs in Puebla, Mexico, a raw seal eyeball as part of a traditional Inuit seal hunt, and an entire cobra—beating heart, blood, bile, and meat—in Vietnam," reported the Daily Freeman in 2010.[53] According to Bourdain, the most disgusting thing he has ever eaten is a Chicken McNugget,[54] though he has also declared that the unwashed warthog rectum he ate in Namibia and the fermented shark he ate in Iceland are among "the worst meals of [his] life."
He had been known for being an unrepentant drinker and smoker. In a nod to Bourdain's (at the time) two-pack-a-day cigarette habit, renowned chef Thomas Keller once served him a 20-course tasting menu which included a mid-meal "coffee and cigarette": a coffee custard infused with tobacco, together with a foie gras mousse.[55] Bourdain stopped cigarette smoking in the summer of 2007 because of the birth of his daughter.[56] He is also a former user of cocaine, heroin, and LSD. In Kitchen Confidential he writes of his experience in a trendy SoHo restaurant in 1981: "We were high all the time, sneaking off to the walk-in refrigerator at every opportunity to 'conceptualize.' Hardly a decision was made without drugs. Cannabis, methaqualone, cocaine, LSD, psilocybin mushrooms soaked in honey and used to sweeten tea, secobarbital, tuinal, amphetamine, codeine and, increasingly, heroin, which we'd send a Spanish-speaking busboy over to Alphabet City to get."[57] In the same book, Bourdain frankly describes his former addiction, including how he once resorted to selling his record collection on the street in order to raise enough money to purchase drugs.
Bourdain was also noted for his put-downs of celebrity chefs, such as Paula Deen, Bobby Flay, Guy Fieri, Sandra Lee, and Rachael Ray,[58][59] and appears to be irritated by both the overt commercialism of the celebrity cooking industry and its lack of culinary authenticity. He has voiced a "serious disdain for food demigods like Alan Richman, Alice Waters, and Alain Ducasse."[60] Bourdain has recognized the irony of his transformation into a celebrity chef and has, to some extent, begun to qualify his insults; in the 2007 New Orleans episode of No Reservations, he reconciled with Emeril Lagasse. He has been consistently outspoken in his praise for chefs he admires, particularly Ferran Adrià, Juan Mari Arzak, Mario Batali, Fergus Henderson, José Andrés, Thomas Keller, Martin Picard, Eric Ripert, and Marco Pierre White,[61] as well as his former protegé and colleagues at Brasserie Les Halles. He has also spoken very highly of Julia Child, saying that she "influenced the way I grew up and my entire value system."[62]
Bourdain was also known for his sarcastic comments about vegan and vegetarian activists, saying that their lifestyle is rude to the inhabitants of many countries he visits. He said he considers vegetarianism, except in the case of religious strictures as in India, a "First World luxury."[63] He clarified that he believed Americans eat too much meat, and admired vegetarians who allow themselves to put aside their vegetarianism when they travel in order to be respectful of their hosts.[60]
His book, The Nasty Bits, is dedicated to "Joey, Johnny, and Dee Dee" of the Ramones. Bourdain has declared fond appreciation for their music, as well that of other early punk bands such as Dead Boys, and The Voidoids.[64] He has said that the playing of music by Billy Joel, Elton John or Grateful Dead in his kitchen was grounds for firing.[64] Billy Joel, however, is a fan of Bourdain's and has subsequently visited the restaurant.[65] In the 2006 No Reservations episode in Sweden, Bourdain proclaimed that his all-time favorite album (his "desert island disc") is the groundbreaking punk record Fun House by The Stooges; and he made it clear that he despises the Swedish pop group ABBA. On both No Reservations and Parts Unknown, he has dined with and interviewed many musicians, both in the U.S. and elsewhere, with a special focus on glam and punk rockers such as Alice Cooper, David Johansen, Marky Ramone and Iggy Pop. He featured contemporary band Queens of the Stone Age on No Reservations several times.
Interests and advocacy
[
edit
]
Bourdain was an advocate for communicating the value and tastiness of traditional or "peasant" foods, including specifically all of the varietal bits and unused animal parts not usually eaten by affluent, 21st-century U.S. citizens.[66] He also consistently noted and championed the high quality and deliciousness of freshly prepared street food in other countries — especially developing countries — compared to fast food chains in the U.S.[67]
He often acknowledged and championed industrious Spanish-speaking immigrants — from Mexico, Ecuador, etc. — who are cooks and chefs in many U.S. restaurants, including upscale restaurants, regardless of cuisine.[68][69] He considers them to be talented chefs and invaluable cooks, underpaid and unrecognized even though they have become the backbone of the U.S. restaurant industry.[70][71]
In 2017 Bourdain became a vocal advocate against sexual harassment in restaurants[72] and Hollywood,[73] particularly following his partner Asia Argento's sexual abuse allegations against Harvey Weinstein.[74] Bourdain accused Hollywood director Quentin Tarantino of "complicity" in the Weinstein sex scandal.[75]
Personal life
[
edit
]
Bourdain married his high school girlfriend, Nancy Putkoski, in 1985, and they remained together for two decades, divorcing in 2005.[76] On April 20, 2007 he married Ottavia Busia. Together, they have a daughter, Ariane, born in 2007.[77][78] Busia appeared in several episodes of No Reservations—notably the ones in Sardinia (her birthplace), Tuscany (in which she plays a disgruntled Italian diner), Rome, Rio de Janeiro, and Naples. The couple divorced amicably in 2016;[79][80] Bourdain noted that having to be away from his wife and child for about 250 days a year working on his television shows became a strain.[81] In 2017, he began dating Italian actress Asia Argento, whom he met when she appeared on the Rome episode of Parts Unknown.[82][83][84]
Bourdain received a blue belt in Brazilian jiu jitsu in August 2015[85] and won gold at the IBJJF New York Spring International Open Championship 2016, in the Middleweight Master 5 (age 56 and older) division.[86]
Bourdain committed suicide by hanging himself on June 8, 2018, in a hotel room in Strasbourg, France, where he was recording an episode of Parts Unknown.[87]
loading...